Business Fraud Protection
Business Fraud Protection
Business fraud is an ever-growing reality. Today's criminals are professionals who continually develop and perfect fraudulent schemes against businesses like yours. Small to mid-sized businesses are even more vulnerable due to their lack of checks and balances.
We provide solutions to mitigate your exposure to fraud. By combining Treasury Services needs and business requirements with the appropriate safeguards, you take a proactive approach to reducing your exposure to fraud.
Here are some tips:
Start Protecting Your Business
Most companies keep sensitive personal information in files - names, Social Security numbers, credit card numbers, or other account data - that identifies customers or employees. You don't want this information in the wrong hands - losing the trust of your customers or potentially winding up with a lawsuit.
What steps can you take?
Take stock. Know what personal information you have in your files or on your computers
Scale down. Keep only what you think you need for your business
Lock it. Protect the information you keep
Pitch it. Properly dispose of what you no longer need
Plan ahead. Create a plan to respond to security incidents
Protect Your Business When Banking Online
Online banking has made it easier and more convenient to manage business finances, but it also provides an opportunity for hackers to gain access to business accounts with the goal of making unauthorized money transfers. According to Visa Inc., most data breaches occur at the small-business level, with many small businesses lacking even simple antivirus protection.
Consider these tips adapted from Data Security Made Simpler:
Initiate a "dual control" payment process with your bank and employees. Ensure that all payments are initiated from your bank accounts only after the authorization of two employees, one to authorize the creation of the payment file and a second responsible for authorizing the release of the file.
Have dedicated workstations. Restrict the use of certain workstations and laptops solely for online banking and payments, if possible
Use robust authentication methods and vendors. Make sure your financial service providers allow for "multi-factor authentication" requiring more than just a username and password to access your account.
Update virus protection and security software. Ensure that all anti-spyware, anti-malware, and security software and mechanisms are robust and up to date for all computer workstations and laptops used for online banking and payments.
Monitor and reconcile accounts daily against expected credits and withdrawals and notify your financial institution immediately of any unexpected activity.
In addition, if you notice anything suspicious or unusual with your account, or account balances, immediately contact the bank.
Additional Website & Information on Identity Theft & Fraud
These websites contain more information on securing sensitive data and protecting yourself or your business from identity theft and fraud. If you have any questions, please contact the bank Security Officer.
Anti-Fraud Services
Positive Pay

Check fraud protection for your business

ACH Filters

An anti-fraud service that monitors the ACH debit activity on your accounts
ID Theft
Learn more about ID theft for your business: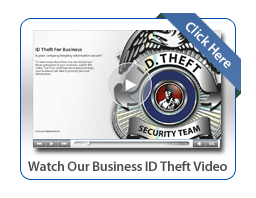 ACH Filters
Electronic Payment Fraud costs American businesses billions of dollars each year. Did you know that under NACHA rules, your business has only 24 hours to return fraudulent ACH transactions?
At American National Bank, we offer a unique approach to Treasury Services, including several services that have proven beneficial to companies just like yours. One such service is ACH Filters - an anti-fraud service that monitors the ACH activity on your accounts and presents as exceptions any ACH debits and/or credits that have not been authorized by you.
Features of ACH Filters include:
Account Block Filters - Designate that all ACH debits, credits, or both, presented against an account, are unauthorized.
Authorize Filters - Authorize only ACH transactions matching specific profiles.
Online Decisioning of Exceptions - If any transactions do not match your authorizations, you are immediately alerted, and you can make online "Pay" or "Return" decisions.
Through our ACH Filters service, you can have peace of mind knowing that you are employing state-of the-art ACH fraud protection for your organization.
Positive Pay
Check fraud is growing at a rate of 25% annually and criminals are getting sophisticated. We offer a highly effective approach through our Positive Pay Service. This ensures all checks written for and by your company are tracked.
A daily comparison is made between your checks presented for payment and an electronic list of checks that you have imported into our Positive Pay online service. You are alerted via email to any exceptions. You may view the exceptions online, examine an image of the check presented, and make a Pay or Return decision.
Additional features of Positive Pay Service include:
High-dollar check notification - This option alerts you to any checks presented above an amount threshold selected by you. You may review their images online.
Tellers are alerted if any of your checks are presented for cashing that do not match the issue records you imported.
Positive Pay adapts to the issued check file format produced by your Accounts Payable system.
Comprehensive reporting.
Through our Positive Pay Service, American National Bank can offer you peace of mind and improved audit control.