Bank from your kitchen, couch, or car
Bank from your kitchen, couch, or car
Feel close to your money (even when you're not)
We know you're busy. That's why we don't make you come all the way to the bank to manage your money. Thanks to our handy online and mobile banking experience, you can scan checks, pay bills, and transfer money from your phone. You can even receive digital alerts and reminders to stay on top of your finances.
That's not to say we don't love seeing you in person, but you've got places to go and people to see.
Lose the checkbook. Start Online Banking
Ever feel like you spend too much time dealing with your personal finances? You have better things to do with your time. Simplify your finances with online banking.
It's easy. Create an online account. From there, you can schedule payments, view your monthly statements, and automate your finances.
You can even set up alerts to notify you via email or text on the status of your checking and savings accounts. After all, no one likes surprises on their personal finances.
New Enhancements for Personal Online Banking
We are excited to announce an upgrade to our Personal Online Banking platform. It has a fresh new look and some added features. Here are some things to look for:
The ability to customize the order of your accounts view
The ability to assign account nicknames
Improved transaction search features that allow you to filter transactions by status
New improved recurring transfers. Now you can set an end date for your transfer
One time passcode - provides second level of security that allows you another option for authentication
You will be prompted to accept the Terms and Conditions upon first signing in to the newly enhanced site. To assist you in getting the full benefit of the added options, we've included a New Features button at the bottom of the page that provides step-by-step instructions. If you find you still have questions, simply call or stop into your nearest branch, or call customer service at 1-800-279-0007.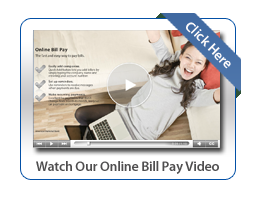 Pay bills online
Automate your finances and have one less thing to worry about.
You can use online bill pay to manage things like car payments, electric bills, credit card accounts, and child care bills. You can set up regular or recurring payments. The money will automatically be withdrawn from your account and show on your monthly statement. Plus, we guarantee it will arrive on the day you specify.
Receive account alerts
No more surprises: Stay in control of your finances.
With our online platform, you can set up alerts that notify you via email or text on the status of your checking and savings accounts.
You can set any of the follow alerts:
Deposit Alert
Low Balance Alert
Overdraft Alert
Withdrawal Alert
Check Number Alert
Check Dollar Amount Alert
Check supported browsers
Worried your browser won't make the cut? Here is our list of supported browsers. If you're having technical issues, upgrading to one of these may solve your problem.
With our online platform, you can set up alerts that notify you via email or text on the status of your checking and savings accounts.
Apple Safari 6.0 
Apple Safari 7.0 
Apple Safari 8.0 
Google Chrome 
Microsoft Edge 
Microsoft Internet Explorer 11.0 
Mozilla Firefox 
Opera
Sign up for online banking
Don't have Online Banking yet?  Click here to get started.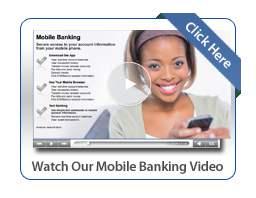 Check out the new features with Mobile Banking
We've added some enhancements to make banking on your phone even better. We know your time is valuable so now you can do what you need to do, even faster. Check out some of the new features:
Improved Navigation – You can leave the app for up to a minute without being logged out. This allows you to leave to use other functions or apps then return to the mobile app
"Instant balance" availability – You can check your balance without even logging into the app
Copy & paste – You can now paste your password into the password field. Allowing you to create more complex passwords, that you keep in a password vault
"More" – The "More" menu now makes it easier to use the ATM and branch locator, for faster look ups
Tutorials – Questions? You can find answers under the new Tutorial section. The quick and easy to understand tutorial makes you an expert on Mobile Banking
Of course you can still do all of the other things you could do before, like:
Deposit checks by scanning
Pay bills
Touch ID to access your account
Check image retrieval
All you need to enjoy the features of Mobile Banking is an Online Banking Account.  Click here to get started.
Download our mobile banking app
The easiest (and best) way to start mobile banking is with the app. All you need is a phone that supports app downloads and a data service plan (or a Wi-Fi connection). Choose your operating system below.
Want to know more? Check out our mobile app how-to guide and FAQs.
Deposit checks using the mobile app
Now, you don't even have to go to the bank. You can deposit a check while watching your favorite TV show. It's easy and secure. Just follow the steps below and revel in the time saved:
Log onto your Mobile Banking account
Go to the Mobile Deposit tab at the bottom of the app
Take a clear picture of both sides of the check
Fill out the amount received
And that's it. Your check should be processed within two business days.
Want to know more? Check out our mobile deposit how-to Guide and FAQs.
Bank with just a text message
If you can't download the app (or just really like text messaging), you can text the bank from your mobile device. With just a simple text message, you can receive your balance, view your transaction history, and even locate ATMs
Most mobile devices can send and receive text messages to and from a short code. Message and data rates may apply.
Want to know more? Check out our mobile texting how-to Guide and FAQs.
Mobile browser banking
Don't want to use our free app or our text banking service? No problem.
You can use your mobile browser the same way you would on a desktop web browser. Find out how.
Please note: You must be enrolled in Online Banking in order to use our Mobile Banking & Mobile Deposit services. To use the mobile downloadable app, your mobile device must have an operating system that supports application downloads and may require a data service plan.
Bank over the phone with Telephone Banking (AKA BankLink)
If you don't feel like digital banking, feel free to give us a call. Our automated system can do your banking for you. If you need to:
Get your balance and account information
Listen to recent transactions
Make transfers
Request a fax of your statement
Provide investment and loan calculations
Find bank locations or product and service info
To use this service, give us a call at: